Buying Cognac in Sydney can be tough, especially if you want to find a bottle from outside one of the usual big four brands, which are Hennessy, Courvoisier, Rémy Martin, or Martell.

This process becomes even more difficult when you want to purchase almost any bottle of Cognac's lesser-known but equally respectable relative, Armagnac, which hasn't seen the same levels of success as Cognac here in Australia.

Luckily for us, however, there are some select few excellent online and in-store retailers that provide some great opportunities to find bottles of both styles coming from all types of brands and producers.

In this article, we shine the light on some of the best places to buy bottles from both styles of premium French brandy for those living in Sydney and give you our recommendations on what some of the best bottles are to purchase for people of all experience levels.

If you're looking to first catch up on what both of these styles have to offer, including how they're distinct from one another, how they pair with food, and how they generally taste, check out our separate complete guides to both of these styles here and here.
Retailer One: My Bottle Shop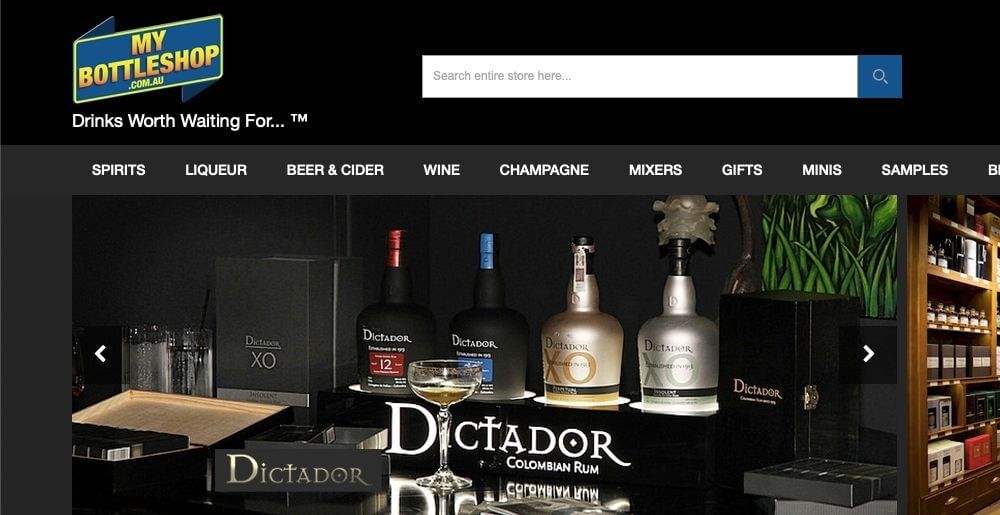 Website: https://www.mybottleshop.com.au
Range: 128 Cognacs & 135 Armagnacs
Delivery Time: Same Day Delivery or 1-2 Business Days Regular Shipping for Sydney Metro
Store Location: 34D Fitzroy Street, Marrickville, NSW, 2204, Australia

Located in Marrickville, Sydney, My Bottle Shop is unlike any other liquor supplier or distributor within Australia as they primarily source and sell brands and bottles that are often harder to find within many of the more traditional retail outlets found across the country.

Whilst this means that you will often find some of the most boutique brands and sought after bottles featured on their website, it is often the case that these will be shipped direct from the supplier rather than from their own warehouse, greatly affecting delivery speed.

This is a small price to pay, however, when you realise just how extensive their range is and how thorough their team have been in stocking items from some of the smallest and distinctly independent brands and producers.

We recommend anyone interested in getting their hands on small production, craft, or independent and family owned fine Armagnacs or Cognacs to visit their website and see just how diverse their selection is.
Retailer Two: Nicks Wine Merchant's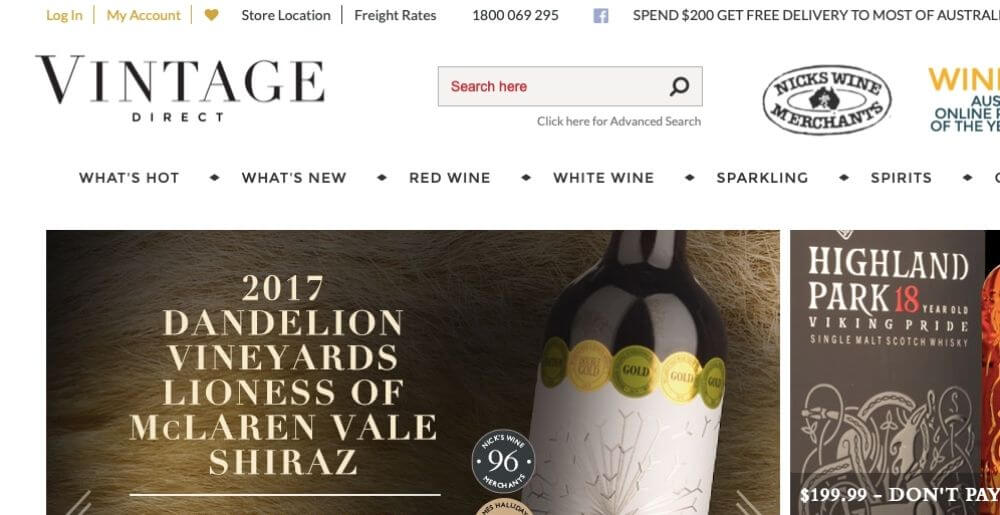 Website: https://www.nicks.com.au
Range: 137 Cognacs & 89 Armagnacs
Delivery Time: 2-3 Working Days in Sydney
Store Location: 10-12 Jackson Court, East Doncaster, 3109, Victoria, Australia

One of the largest family-owned businesses operating within the online liquor retail industry, Nicks Wine Merchant's offer up one of the greatest range of fine craft and boutique wine and spirit products for those seeking rarer or hard to find bottles at perhaps the quickest delivery speed.

Whilst they only have one physical store located in Melbourne, we in Sydney and wider Australia are still able to get our hands on most of their products through their comprehensive website, which catalogues a staggering number of smaller brands and bottles.

Over the years, their website and single in-store location have received numerous awards for range and customer service, with one of their most recent accolades including them being chosen as Australia's Best Online Whisky Retailer by the esteemed UK publication Whisky Magazine in 2018 and 2019.

Turning our attention back to Cognac and Armagnac, however, they have a selection of more than 200 bottles of both styles available for purchase on their website as at the time of publication of this article, with most of them being from smaller independent and family-owned brands and producers.

Consider these guys your first go-to online location for all things boutique and independent in the world of Cognac and Armagnac in Sydney at the fastest delivery speeds.
Retailer Three: Dan Murphy's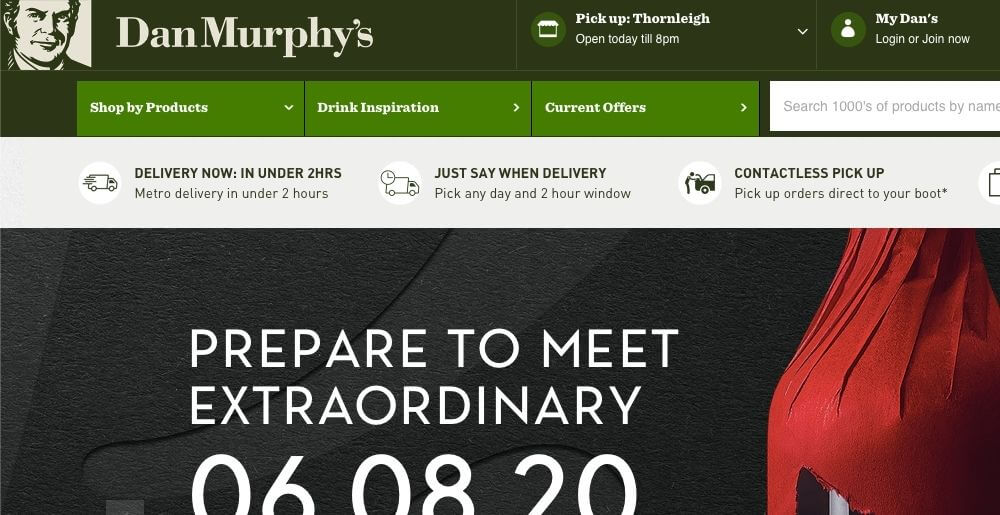 Website: https://www.danmurphys.com.au/dm/home
Range: 62 Cognacs & 36 Armagnacs
Delivery Time: 2-4 Business Days in Sydney Metro Areas
Store Location: Nation Wide

Hardly needing any introduction, Dan Murphy's is by far the biggest physical in-store supermarket-sized retail liquor chain operating within Australia, with over 215 stores located across the country as of 2016.

Their size makes them one of the best places to find perhaps the widest array of beers, wines, and spirits at often the most competitive prices.

When it comes to their selection of Cognacs and Armagnacs, however, they are not the most prolific supplier of these styles of premium French brandy, although they still offer a great range of products from most of the biggest as well as mid-tier brands in the business.

Household names such as Hennessy, Rémy Martin, Courvoisier, and Martell from the world of Cognac as well as premier producers of Armagnac, including Delord or Château du Tariquet, are featured on their website and found at plenty of in-store locations.

If you're looking to quickly get your hands on a particular bottle from any number of the biggest brands producing either Armagnac or Cognac then Dan Murphy's is the best place to do so at some of the lowest prices.
Retailer Four: The Oak Barrel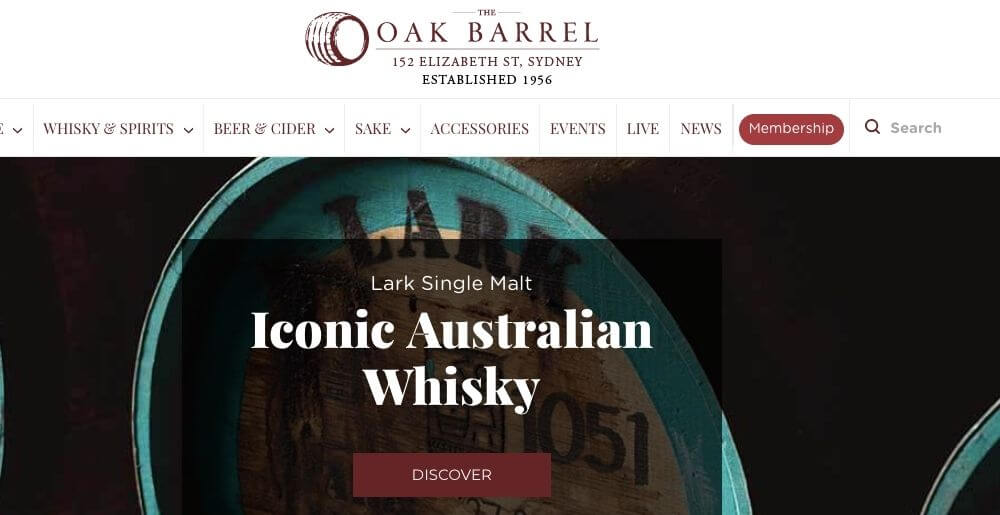 Website: https://oakbarrel.com.au
Range: 16 Cognacs & 42 Armagnacs
Delivery Time: Same Day Delivery or 5 Working Days Regular Shipping for Sydney Metro
Store Location: 152 Elizabeth St, Sydney, NSW, 2000, Australia

One of the craftiest liquor stores in the Sydney CBD area, The Oak Barrel has one of the most comprehensive ranges of craft and boutique spirits and beer of any store in the area.

When it comes to their selection of Cognacs and Armagnacs, however, they fall quite a ways short in terms of range than some of the other mentions on this list but still deliver a rather impressive selection of smaller brands and bottles, particularly in their Armagnac collection.

What makes them such a worthy mention on this list is by far their location as they're situated right in the heart of the city, making them easy to get to and one of the best liquor shops to visit when heading into the CBD or travelling home from work.

For those readers who are also interested in expanding their personal selection of whisky, rum, gin, or craft beer then it is highly recommended that you pay these guys as a visit as their impressive range of these products is sure to make you find something out of the ordinary.
Cognac: Recommended Bottles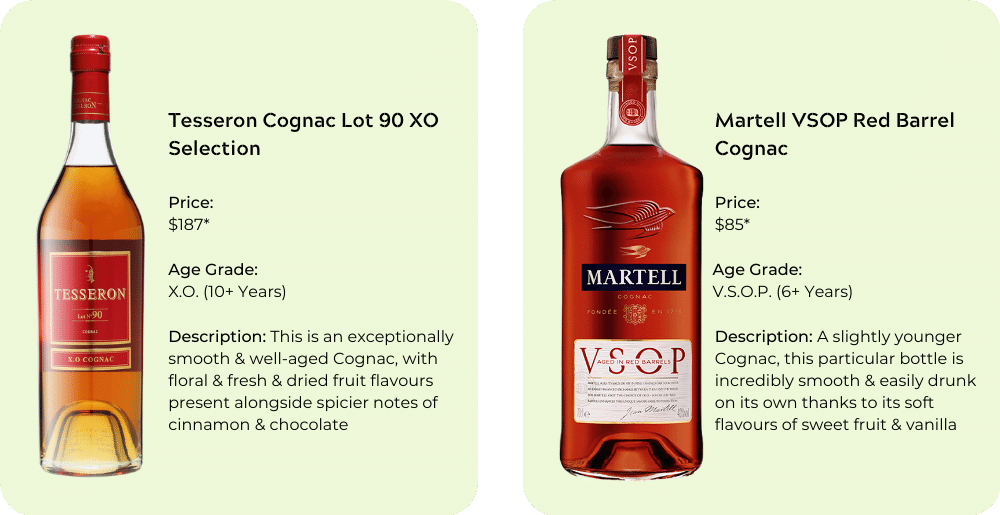 Cognac, as mentioned in our Complete Guide to Cognac for Beginners, is much prized for its delicate flavours of dried fruits, vine flowers, and sweet spices, particularly when well-aged.

Depending on whether you want one that is bursting full of vibrant, fresh, crisp fruit flavours or one that is far more complex, with distinct notes of coffee, cinnamon and vanilla spice, and chocolate, you should go for a bottle of younger or thoroughly aged Cognac.

Our top picks for both of these styles are featured above and can be found at most of the retailers mentioned on this list and at plenty of others, making them easily accessible.
Armagnac: Recommended Bottles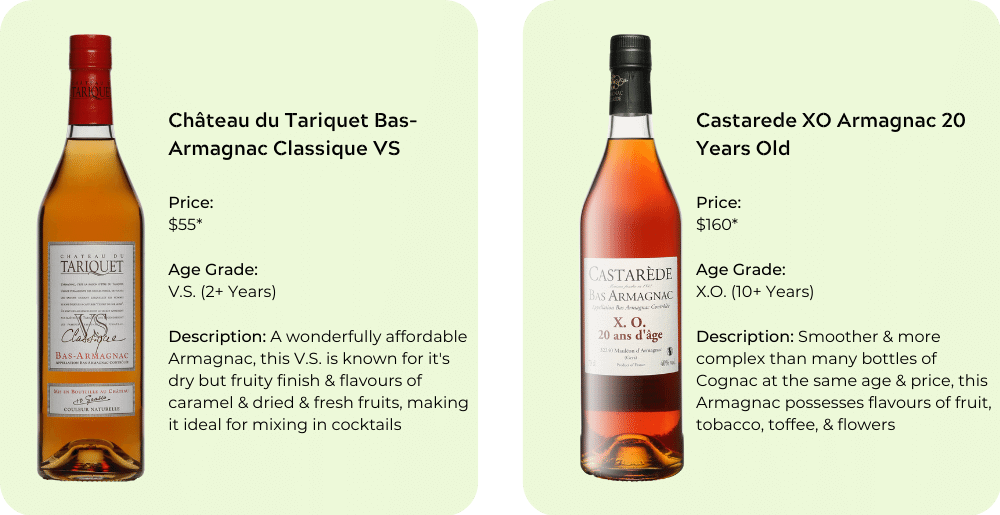 For those who have read our Complete Guide to Armagnac for Beginners, you'll already know that this type of premium French brandy is known to be typically more robust in flavour than Cognac, making them excellent on their own or served in a swathe of cocktails.

Similar to Cognac, depending on whether the particular bottle you're considering has been aged for an extensive amount of time in oak or whether it has been bottled relatively young, this will drastically impact whether the flavour profile will include tertiary notes of chocolate, coffee, sweet spice, and oak or whether it will be far more fresh, crisp, and fruity.

Above you can find two bottles coming in both styles that we think are excellent examples to start with as they're relatively easy to come by and perfectly representative of each respective type.