As they exist in Australia, Muscats, properly referred to as Liqueur Muscats amongst wine experts, are some of the sweetest and most decadent styles of dessert wine produced anywhere in the world.

To realise both this and to understand why this style of dessert wine has such a passionate following worldwide, you only have to try one of the fine bottles of Liqueur Muscat produced by well-known Victorian wineries such as Buller or Seppeltsfield, of which there are many.

Beyond their dark and lusciously sweet exterior, however, these wines are actually incredibly complex and very difficult to make, with many of the finest examples reaching ages of up to twenty, thirty, or even forty years old.

To help you develop an appreciation for and better understanding of these fortified dessert wines, we've put together this illustrated beginners guide to the style, which will explore topics such as how they're made, how they typically taste, how they should be served, and finally, how they match with food.

If you want a quick overview first, we recommend that you visit the section about Muscat Wines located within our quick guide to other fortified and dessert wines.

Otherwise, read on to discover why Muscat Liqueurs number amongst some of the best examples of fortified dessert wines anywhere in the world.
How are Liqueur Muscats Made?
When exploring the style, it's important to first understand that the specific grape varietal used to produce these wines, Muscat à Petits Grains Rouge, belongs to the same family of grapes that are also responsible for crafting the far more well known Moscato wines of Italy, which are made using the Muscat Blanc varietal.

Considering just how incredibly diverse the Muscat family of grapes is, here's a quick visual overview of the most important varietals to remember.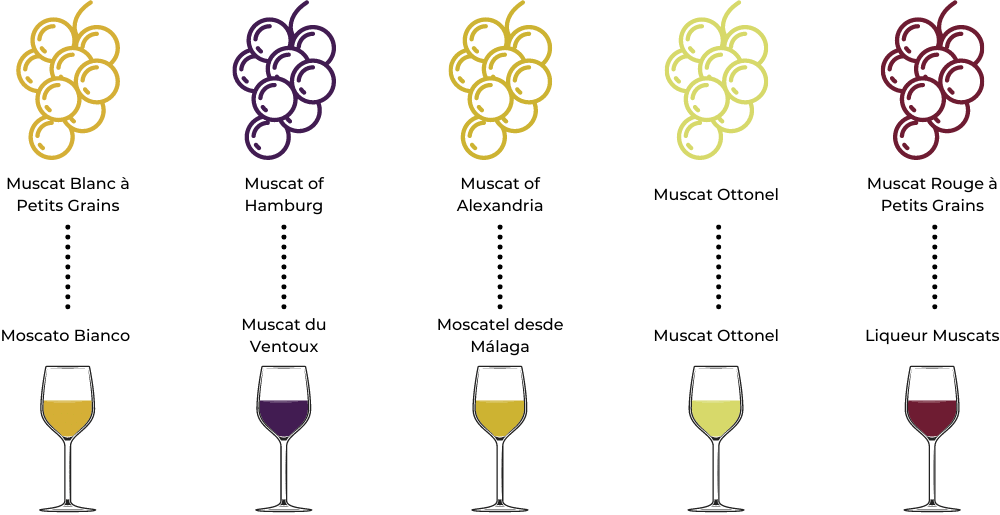 Moving past the specific varietal used, it's also crucial to note that unlike bottles of Moscato, Liqueur Muscats are a type of fortified wine, making them similar to bottles of Port or Sherry.

To keep things simple, fortified wine products are those that have been fortified, or strengthened, with some kind of additional alcohol, usually brandy.

Not only does this serve to significantly increase the alcohol content of Liqueur Muscats up to between 15 to 20 percent, it also ensures that these wines can survive, once opened, for significantly longer periods of time than standard bottles of red or white wine, sometimes up to several months.

For a quick run through of the production process employed when crafting Liqueur Muscats, see below.
Step One: Muscat Rouge à Petits Grains grapes are harvested later than regular wine-producing grape varietals, ensuring higher concentration of sugar to juice.


Step Two: the somewhat raisined grapes are then pressed and only partially fermented due to the addition of brandy. This not only increases the alcohol content of the wine but also preserves the sugar content.


Step Three: The final wine product is then placed into oak barrels for a variable amount of time, often occurring in the solera ageing system that's also used in the production of Sherry and whisky.
Besides the grape varietal used and the production method employed, the final important detail to remember when considering these wines is their sugar content.

Due to the fortification of the wine during production, the process of fermentation is halted as the yeast strains die due to the higher levels of alcohol present, which inevitably results in wines that possess an extraordinarily high level of residual sugar when compared to regular bottles of wine, with most Liqueur Muscats often sitting between 180 to 400 grams per litre.

This helps to make these wines not only incredibly sweet and lucious, it also means that they will age for far longer than standard bottles of wine, making them a prized collectors item.

If you're interested in seeing what some of the most age-worthy examples of Liqueur Muscats look like, consider the range of products produced by Buller, Seppeltsfield, and Campbells, which are collectively responsible for producing some of the finest bottles of fortified dessert wine in Australia.
How do Liqueur Muscats Taste?
As you might expect from the very high sugar content of these wines, Liqueur Muscats are incredibly rich, decadent, sweet, and syrupy bottles of wine, which also explains why the barrels that once housed them are also used to age bottles of Australian whisky.

Some of the common flavours mentioned when tasting them includes dried fruits, including raisins and plum, Christmas cake, and orange peel, with more complex notes of mocha and nuts developing as the wines are allowed to age for longer periods of time in oak prior to being bottled.

To help you get a better understanding of how most bottles of Liqueur Muscat will taste, it's recommended that you look at the classifications marked on the wine's label, which alludes to both the quality and sugar content of the bottle being considered, with this presented below.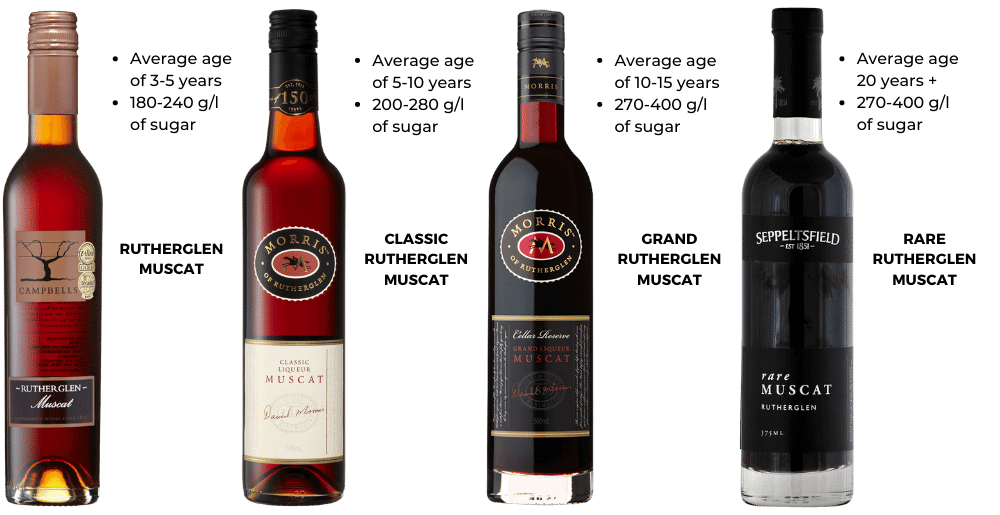 Rutherglen Muscat: aged for an average of 3-5 years, this represents the entry level to Liqueur Muscats from Rutherglen, with a sugar content of between 180-240 grams of sugar per litre. Tastes fruity sweet, with distinct notes of raisins.


Classic Rutherglen Muscat: moving along the scale, these are aged for an average of 5-10 years and contain higher levels of sugar at around 200-280 grams of sugar per litre. Still overwhelmingly fruity but with some hints of sweet spice.


Grand Rutherglen Muscat: aged for an average of 10-15 years, this represents the penultimate classification for Rutherglen Muscats, with a sugar content of between 270-400 grams of sugar per litre. These wines have equal amounts of raisins and dried fruits alongside caramel, butterscotch, and sweet spice.


Rare Rutherglen Muscat: as the name suggests, these are the pinnacle classification for Rutherglen Muscats, with the average age surpassing 20 years and the sugar content sitting between 270-400 grams per litre. Very complex in taste, with dried fruit notes mingling with mocha, sweet spice, caramel, nuts, and butterscotch
Outside of the classification marked on the bottle, however, it's also pertinent to consider the tasting notes provided by the winery itself, as these will be perhaps the best way of accurately discerning the expected flavour profile of the bottle in question.
How Can Liqueur Muscats be Served?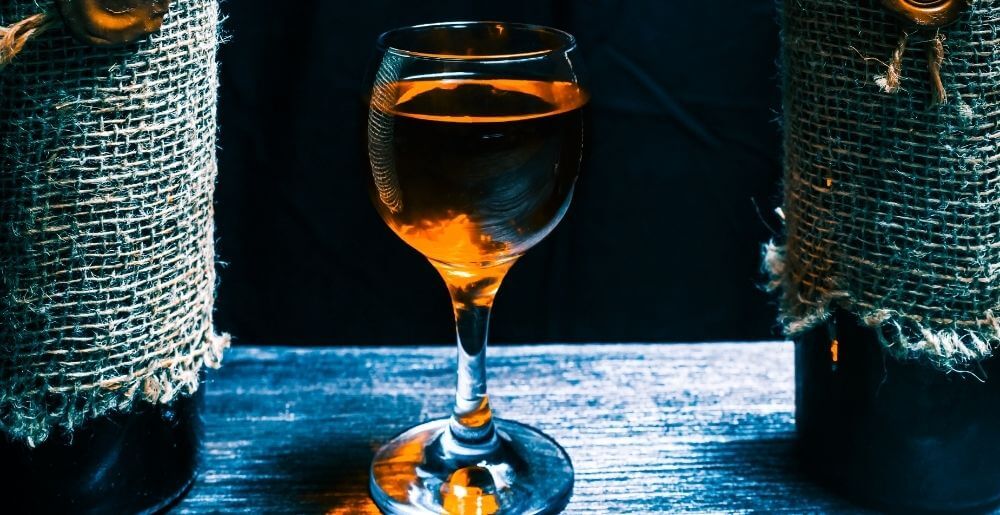 Due to their sweet flavour profile, Liqueur Muscats can easily be served as a dessert item all on their own, with many also choosing to chill their wine before serving it this way.

Besides having it on their own, however, Muscats are actually very food-friendly bottles of wine, with some of the best food pairing options including:
Desserts: chocolate cake, Christmas pudding, crème brûlée, ice cream, and fruit mince pie.


Cheeses: specifically blue cheeses such as roquefort or gorgonzola.


Main Courses: Foies Gras or spicy curries
For more food pairing inspirations, be sure to consider the suggestions posed by Muscat winemakers themselves.